DAKAR PODIUM,
JEDDAH, SAUDI ARABIA
HERO MOTOSPORTS STARTS ITS FOURTH DAKAR CAMPAIGN.
This year, Hero MotoSports Team Rally will field a four-rider team that includes Paulo Goncalves (Competitor No. 8), Joaquim Rodrigues (Competitor No. 27), CS Santosh (Competitor No. 50) and 25-year-old Sebastian Buhler (Competitor No. 32), the latest addition to the team.
The confident quartet rolled off the ceremonial podium today in front of thousands of enthusiastic fans assembled in the beautiful setting of the Corniche area of Jeddah, facing the majestic Red Sea. They gave a cheerful send off to the competitors.
"THE TEAM HAS BONDED LIKE A FAMILY." -PAULO GONÇALVES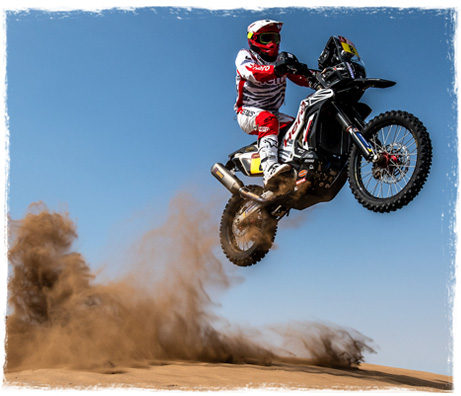 COMING UP
Having completed all the administrative and technical checks successfully, the team is now raring to kick start their Dakar 2020 campaign with the first stage on 5th January that will take the riders from Jeddah to Al Wajh with a 319 km special stage and a total run of 752 kms including the liaisons.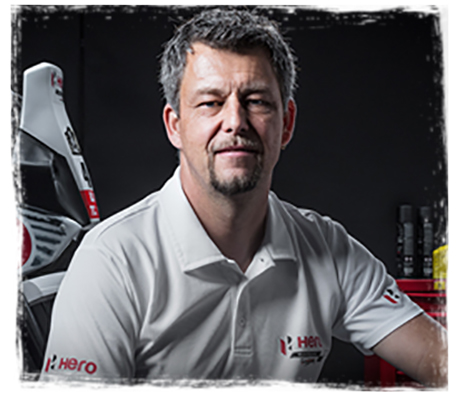 WOLFGANG FISCHER
We are quite excited to be at Dakar 2020 for our 4th year now. For this new adventure in a completely new continent and terrain, we also have an exciting new combination of riders with Paulo, a Dakar legend in our ranks on one hand and an exciting young prospect in 25-year-old Sebastian Buhler on the other, who has already achieved a Top 20 finish in the last year's Dakar. Joaquim has also completed his recovery now, coming back strongly to win the Pan Africa Rally while Santosh also recorded his best ever performance with a 5th place finish in the same rally. So, the team has been shaping up really well both mentally and physically and we are in a very positive frame of mind for this Dakar. We can never predict an outcome in the Dakar, especially this year as it's a new environment for all the teams, so our first aim still remains to get the riders and bikes safely across the finish line every day.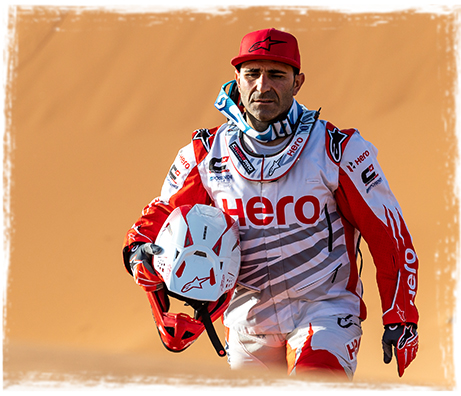 PAULO GONÇALVES
I am really excited to be a part of this new chapter of Dakar. I have had the privilege of racing in two continents with the Dakar, and now coming to the 3rd continent of Asia. I feel honoured and blessed to be able to do this. We have had really good preparations; the team has bonded like a family and that's a very good thing for us. I am very happy with my Hero 450RR and quite confident about our prospects. In the end, the first job of any rider is to bring the bike home and that's what I will be focusing on. Looking forward to my first Dakar with Hero MotoSports Team Rally!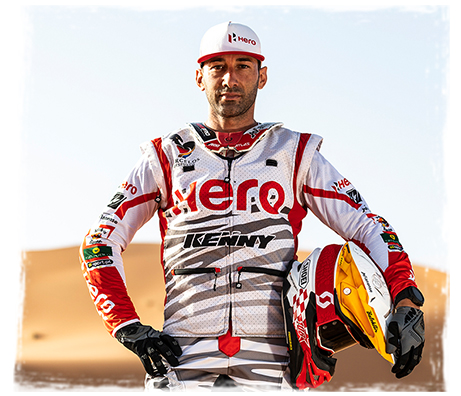 JOAQUIM RODRIGUES
It's a completely new challenge and I am quite excited about it. My recovery has been good and I am back to 100% so that's a really good feeling to have. I had a good last season, got some good experience under my belt and the win at the Pan Africa Rally boosted my confidence. We have really come together as a team in the last season with Paulo coming on board. I am quite happy with our preparations and the bike is looking good too, so we are in a good place. I am going to do my best to get my Hero bike home every day.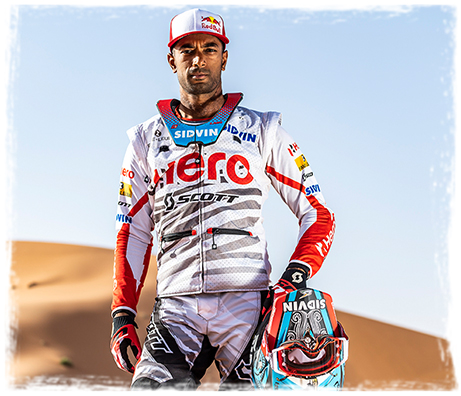 CS SANTOSH
I am quite kicked about this all-new adventure that the Dakar 2020 is offering. It's going to be tough and from the first impressions we have got, the navigation is going to play a key role here. I have worked hard on my navigation throughout last season and my speed has also improved a few notches. I am feeling quite confident and well prepared for the new challenge. We have got a really good team bonding going on and Paulo has been sharing a lot experience with all of us so it has really helped. I could not finish the last Dakar so I am going to try and finish what I started last time.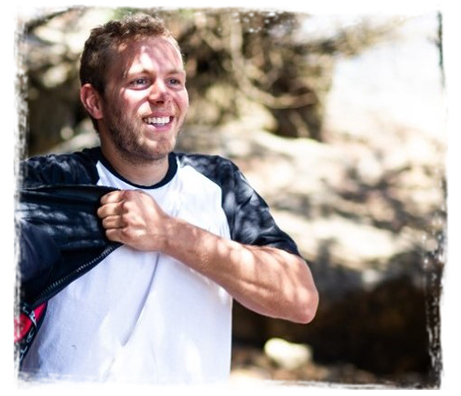 Sebastian Buhler
It's going to be my first time racing with Hero MotoSports Team Rally and I am really happy to be a part of this team. We have a great environment within the team and I have learnt so much from all these guys. To be able to ride and work with these guys and Dakar legend Paulo, for a young rider like me, that's a great opportunity and I am trying to make the most of it. My focus is to get as much experience out of this opportunity and try to get to the finish line in every stage.
PROVISIONAL STANDINGS - PODIUM
OVERALL STANDINGS - PODIUM