Riding on its spectacular win at India Baja 2017, Hero MotoSports Team Rally is all set for the next big challenge – Merzouga Rally 2017.
In the vast and expansive deserts of Morocco, Hero riders C.S. Santosh and Joaquim Rodrigues, will compete in the 6-day long race through unforgiving terrain. A springboard to Dakar, Merzouga Rally runs through 1200 kms of sand, dunes and flat-out stretches, running from the Atlas Mountains to the north of Sahara Desert.
Date: 7th -12th May, 20176 Days5 StagesTotal 1200+ kmRegion: MoroccoTemperatures: 40 - 47 Degrees Celsius
Our riders will have to battle it out against extreme temperatures, uneven terrain, unpredictable storms and special stages full of obstacles. The race will test their mettle in the harshest of conditions, pitching them against the best riders from across the world.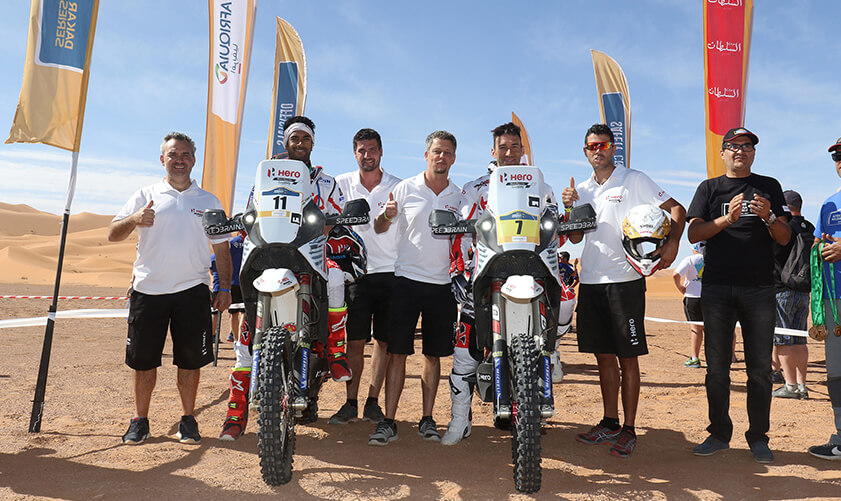 Merzouga Rally 2017, Stage 6
The 2017 edition of Afriquia Merzouga Rally concluded as the Indian team Hero MotoSports Team Rally came up with yet another impressive performance at an international rally raid event.
Team rider Joaquim Rodrigues finished the Stage 6 today in 2nd place, giving himself an impressive 9th position in the overall standings. Team's Indian star rider CS Santosh ended the Rally at 17th position in the overall standings, turning in a steady performance following a spine injury earlier in the year. He finished the 6th Stage in 24th position.
With this Hero MotoSports Team Rally rounded-off the first half of this season with four great performances – Dakar (January), Desert Storm (February), India Baja (April), Merzouga (May). The Team will continue building momentum upto the Dakar 2018.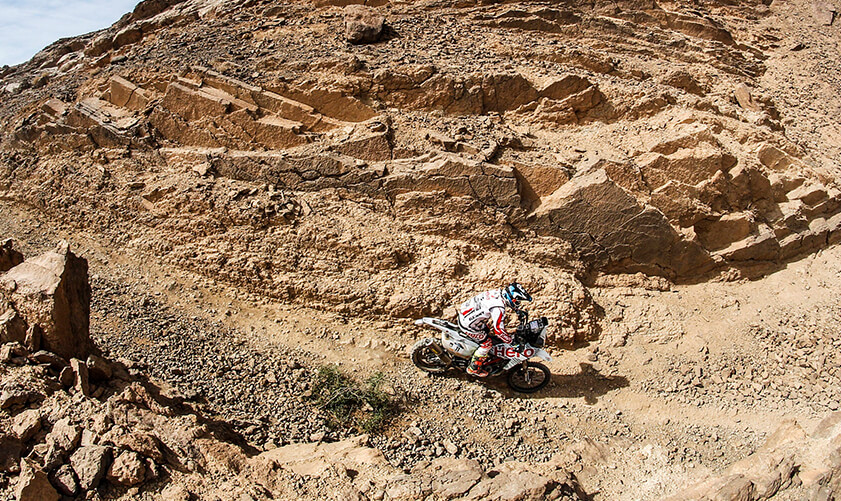 Merzouga Rally 2017, Stage 5
The second day of the Marathon stage of 206 km tested the riders with many dunettes, big stone fields and tricky navigation throughout
Joaquim Rodrigues, made a good run today, taking control of the stage with his cool head, steadfast resolve and ever improving navigational skills. He was in fact very close to clinching the stage victory, only missing it by 1:07 min. In the end he finished today's stage in the 4th place, his best stage finish since winning the prologue.
For CS Santosh too, the stage started well but a nasty crash after that impacted his progress in the stage greatly. Santosh lost a lot of time due to the crash and finished the stage in 36th position.
With only the last stage remaining to be conquered, Hero MotoSports Team Rally will be looking to make a last dash in the short 50 km special of Grand Prix Dunes and bring home a good result for the team.
view more stories