Hero MotoSports Team Rally is all set to enter into its first domestic race of 2018 season, the Desert Storm Rally, with CS SANTOSH. Our other two riders - Joaquim Rodrigues and Oriol Mena have been rested for this rally.
For the Team, this will be our third national outing while this will mark the debut of the Hero 450 RR on Indian terrain. For Santosh, this will be his 5th appearance, with the first three coming in 2014, 2015 and 2016 as a winner and 2017 ending in a third-place finish.
This year, the Desert Storm Rally will be conducted from 17th March to 23rd March 2018, kicking off from Bikaner in Rajasthan on 19th, leading to Jaisalmer, where it will spend 4 days before concluding on 23rd March.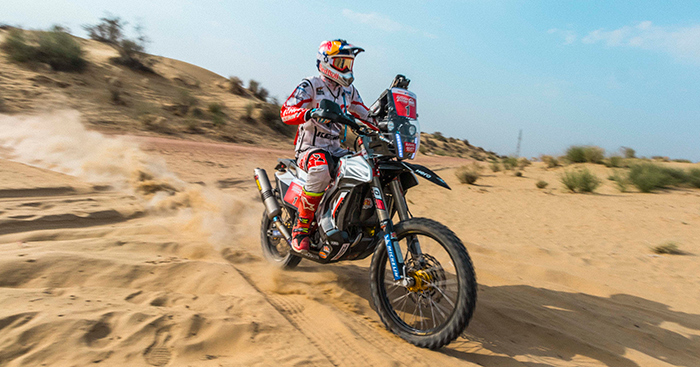 Hero MotoSports Team Rally starts with a win on day 1 at Desert Storm 2018
CS SANTOSH made a solid start in the Maruti Suzuki Desert Storm 2018 by closing the day one on 1st position. Santosh, who opened the first special section today, made a blazing run to complete the 86.5 km special in a good time of 01 h 10 min to finish the leg 1 of the rally in the lead. Santosh made good of the much-improved bike as well his own experience to fight off the competition from TVS Factory debutant, Santolino Lorenzo and Aaron Mar, another international debutant riding for Angata Racing.