Desert Storm Rally has an unparalleled following as the first big race of every calendar year in India. This year, the race covers over 2000 km of vast deserts and off road tracks in Rajasthan, starting from Hanumangarh to Bikaner and Jaisalmer, with the last stage concluding at Jodhpur. Truly testing the rider's biking and navigational skills, the Rally has 5 daunting stages, which include the challenges of night riding and special sections.
After conquering the gruelling Dakar Rally, our hero rider CS Santosh is hitting it off with his next mission at Desert Storm. Riding the sturdy Hero Rally Bike, the finest Indian rider is like an unstoppable force who has no time to rest. He has already won this race three times, clinching the top spot consecutively in the last 3 years. But his love and passion for riding keeps him going. This time, he is competing with over 36 finest riders of India, and we are excited about the adventures ahead.
Date: 30th January to 4th February, 2017Total: 2000 Km36 Riders in Moto CategoryRegion: Hanumangarh, RajasthanTemperatures: 16-20 degree Celsius
Owing to a last minute time penalty handed to us, on account of late check-in at the final time control, C S Santosh and Team Hero MotoSports Rally finished at the third position at the recently concluded Maruti Suzuki Desert Storm 2017. Despite the drop in the position, C S Santosh won seven of the nine stages of the rally.
We are extremely happy that after achieving a 100 percent finish in the 2017 Dakar Rally, we managed to get on the podium in our first home rally even with very limited preparation time.
C S Santosh: We had a great run at the DS2017 with so many challenges that we overcame over the last 5 days. I am indeed lucky to have had the backing of the best team behind me, it's unfortunate however that we incurred a time penalty on the last transport. It's a costly error that cost us the Rally win. Happy to walk away in good health and spirit to come back stronger next year.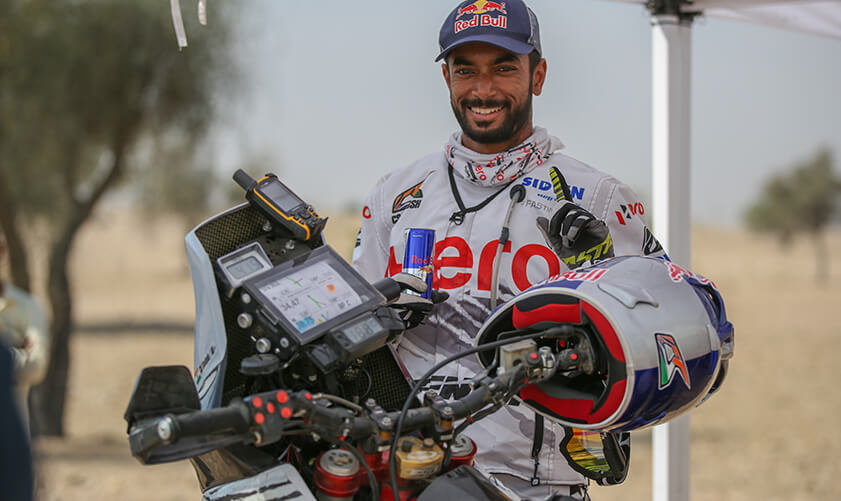 4th Leg at Desert Storm
Owing to a last minute time penalty, CS Santosh finished at the third position at Desert Storm 2017. Due to a miscalculation in timing the transport section, he reached the final time control 31 min after his scheduled time, and a last minute penalty of 31 minutes was handed to him.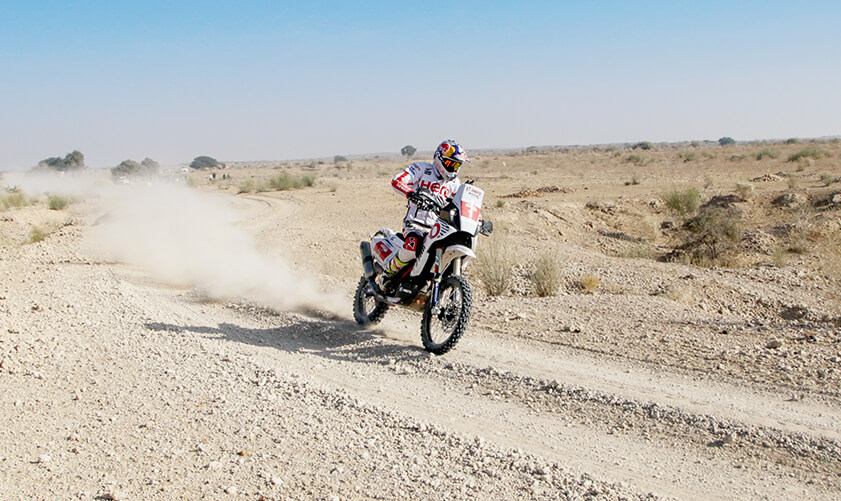 3rd Leg at Desert Storm
The 3rd leg of Desert Storm comprised of a special stage of total 198 kms of run in the deserts of Jaisalmer. With another solid performance for this leg, Santosh finished at the top of the charts for the second day back to back.
view more stories