Hero MotoSports is ready to participate in its third Dakar
with three Heroes
Hero MotoSports Team Rally's team to participate in the 41st edition of the Dakar Rally will feature all three Hero MotoSports' riders - the most experienced Indian Dakar participant, CS SANTOSH, Portuguese star Joaquim Rodrigues, and Spanish sensation and 'Best Rookie of the Dakar 2018', Oriol Mena. This will be HeroMotoSports' third consecutive Dakar Rally.
Over the previous two years, the team has consistently improved its performance at the Dakar. Having earned a Top-15 finish in 2017, the Team successfully secured a Top-10 finish in 2018. With a great 2018 season, the Team is revving towards Dakar 2019 and looking forward to yet another positive campaign. All three riders will ride on the Hero 450RR rally bike.
While announcing the team, this is what Dr. Markus Braunsperger, Chief Technology Officer, Hero MotoCorp and Head of Hero MotoSports had to say, We are enthusiastic and absolutely ready for Dakar 2019. Looking at this highoctane event, which is expected to be even tougher than last year, our focus remains on finishing the Rally. This year has been very good for the Team in terms of preparations and training as it has participated in events across the globe and delivered strong finishes. We aim to ride that momentum in the upcoming Dakar Rally in January.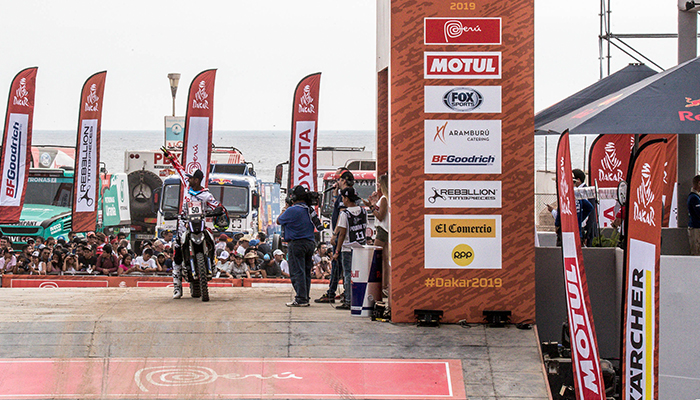 CEREMONIAL PODIUM SEND OFF
The three riders of Hero MotoSports Team Rally – Oriol Mena (Competitor no. 7), Joaquim Rodrigues (Competitor no. 27) and C S Santosh (Competitor no. 50) - rolled off the ceremonial podium, in front of thousands of enthusiastic fans assembled in the beautiful seaside district of Magdalena Del Mar to give a warm send off to the participants.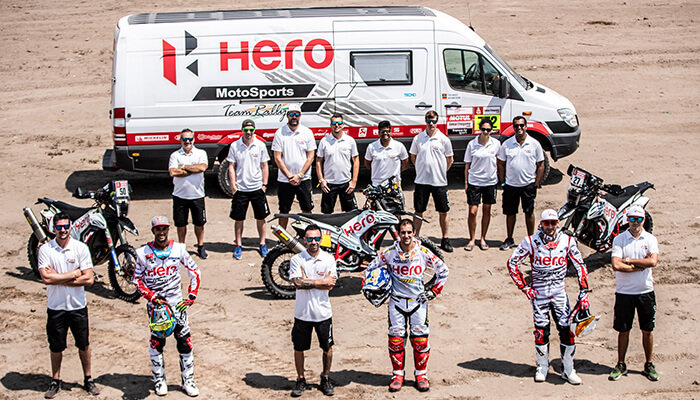 Scrutineering and technical checks
Hero MotoSports Team Rally successfully went through administrative and technical scrutineering on January 6th at the Las Palmas Air Base, kicking off proceedings as our three riders and the crew submitted themselves to this ritual. The Hero 450 RR bikes are now in a secure enclosure and will be tackling the first dunes on 7th January.
Presenting Hero MotoSports Dakar 2019 Team
CS SANTOSH, Rider, Hero MotoSports Team Rally said, "This will be my third Dakar with Hero MotoSports and fifth overall. It has been a very exciting three years and I'm geared up for yet another rendezvous with this unique event. I am satisfied with the preparations and look forward to delivering a solid performance. We have had a good training season and I tried to make every session count. Ultimately, it's about enjoying the process and arriving at the finish line."
Joaquim Rodrigues, Rider, Hero MotoSports Team Rally said: "It feels great to ride again, after my accident at Dakar 2018. The recovery has been tough and long but thanks to the prayers and love from my fans I am able to ride again. I have been training particularly hard with a focus on arriving at the finish line safely. This will be my third Dakar and I'm very excited to be riding with my team again and hopeful of delivering a good performance."
Oriol Mena, Rider, Hero MotoSports Team Rally said: "I couldn't have wished for a better debut in rally racing with Hero MotoSports Team Rally providing a fantastic platform and support to me. Had a good year and a great outing at the Dakar 2018. This also raises the stakes for me at Dakar 2019, so I have been training hard and aim to improve my performance this year. Dakar is a very exciting and challenging encounter for a rider. I am feeling thoroughly upbeat about riding with my team amidst an exceptionally talented group of competitors."

In its 41st edition, the 2019 Dakar Rally will take the convoy of participants on a 5,000-kilometre coil around Peru, starting and finishing in Lima, from January 6- 17, 2019. There will be a total of 3,000 kilometers of racing divided between 10 special stages, where 70% of the terrain will be covered in sand.
Road To Dakar
The past season took our riders to rallies in deserts across the world - giving them a primer of what's to come at the biggest one of them all. The team has raced at Atacama, Merzouga, Desert Storm and more. Relive the highlights from this epic season.
Training
The team have been hard at work training both mind and body to take on the 2019 Dakar Rally!
2018 Dakar campaign, where Oriol Mena scored a top 10 finish on his debut, finishing in 7th Place and CS SANTOSH also delivered his personal best, finishing the rally in 35th place, in what was touted as the toughest Dakar yet, in the South America.