MISSION DAKAR 2021
STAGE 11
RACE SUMMARY
HERO MOTOSPORTS RIDERS IN TOP 15 OVERALL WITH ONE MORE STAGE TO GO.
Hero MotoSports Team Rally posted a steady performance in the penultimate stage of the 2021 Dakar Rally. Both riders are now in the Top 15 in overall rankings.
The riders tackled the stage confidently and completed it without any major incident. Sebastian Buhler kept it steady and concentrated hard to avoid any mistakes at this critical juncture in the rally. He got rewarded for his discipline and perseverance with a 12th place finish.
Joaquim Rodrigues also started the stage well to get into a good pace and rhythm until right at the very end of the stage when he missed a waypoint. Besides losing time, he also attracted a time penalty for missing it, thereby finishing Stage 11 in 26th place.
With only the last stage separating riders from the finish line at Jeddah, Hero MotoSports Team Rally is poised for a strong finish with both Joaquim and Buhler placed in 12th and 15th places respectively in the overall standings.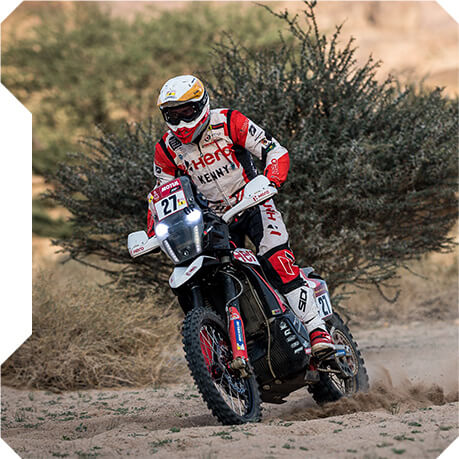 COMING UP
The last stage of the 2021 Dakar Rally tomorrow will provide one last opportunity to riders, albeit a short one at 225 competitive kms, to make one final dash to the finish line in Jeddah.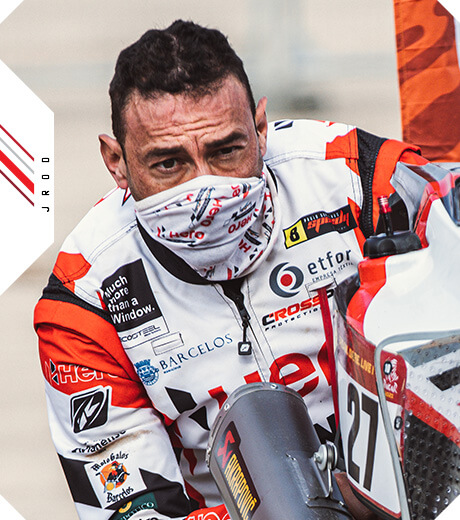 JOAQUIM
RODRIGUES
"I tried to take it easy and make it to the finish line as we are very close to completing the rally. Everything was going good for most parts of the stage. I had good pace and rhythm. But just 20km before the finish, I couldn't find a waypoint. I kept looking for it till I reached a point where I started running low on fuel, and then I decided to move on. Lost a lot of time there but I made it to the finish, so I am happy with that."
Sebastian
Buhler
"Today was a very long stage with some difficult and dangerous zones. So, I tried to relax myself and concentrated on not making any mistakes. Towards the end there was a difficult navigation point where I just slowed a bit and tried to focus on doing everything right. The strategy worked well for me as I didn't lose too much time there. For the last stage, my plan is to approach it like the first stage because the race is not done until you cross the finish line."
PROVISIONAL STANDINGS -
STAGE 11
| POS | NAME | TEAM | TIMING |
| --- | --- | --- | --- |
| 1 | Sam Sunderland | RedBull KTM Factory Team | 04h 35m 12s |
| 2 | Pablo Quintanilla | Rockstar Energy Husqvarna Factory Team | +02m 40s |
| 3 | Kevin Benavides | Monster Energy Honda Team | +06m 24s |
| 12 | Sebastian Buhler | Hero MotoSports Team Rally | +23m 49s |
| 26 | Joaquim Rodrigues | Hero MotoSports Team Rally | +57m 30s |
OVERALL STANDINGS -
STAGE 11
| POS | NAME | TEAM | TIMING |
| --- | --- | --- | --- |
| 1 | Kevin Benavides | Monster Energy Honda Team | 45h 01m 44s |
| 2 | Sam Sunderland | RedBull KTM Factory Team | +04m 12s |
| 3 | Ricky Brabec | Monster Energy Honda Team | +07m 13s |
| 12 | Joaquim Rodrigues | Hero MotoSports Team Rally | +02h 38m 58s |
| 15 | Sebastian Buhler | Hero MotoSports Team Rally | +03h 48m 33s |