MISSION DAKAR 2021
STAGE 12
RACE SUMMARY
HERO MOTOSPORTS CONCLUDES THEIR IMPRESSIVE CAMPAIGN WITH BOTH RIDERS IN TOP 15.
Hero MotoSports Team Rally completed its Dakar 2021 campaign with a fantastic result as both Team riders crossed the final finish line today in Jeddah.
Joaquim Rodrigues, for whom this was a highly emotional Dakar, finished the last stage with yet another top-10 finish at 8th place, making it his sixth Top-10 stage finish in this Dakar. Sebastian Buhler was not far behind, also posting another Top 10 for the team with a 10th place finish in this last stage, his third of the rally.
At the end of an emotionally charged and grueling 12 stages, Hero MotoSports delivered an impressive performance, with both riders posting their best-ever Dakar standings. Joaquim Rodrigues, battling with his mind and emotions throughout, bettered his debut Dakar standing by one and finished in 11th place. For Sebastian, it was a great learning curve. Already considered as one of the most promising young riders, Buhler further cemented his reputation by finishing this year in 14th place, his best ever and his first Top-15 at the Dakar.
It was by far the toughest Dakar Rally for the Team, given the overwhelming emotional backdrop that was further accentuated by the pandemic. Coming into the toughest rally on the planet with a relatively untested new Hero 450 Rally bike and a very short racing and training season, it was by no means an easy task to do well in this Dakar. The Team, undeterred by their circumstances and determined to do this Dakar as a tribute to the late Paulo Goncalves, delivered gritty and hard-fought performances stage after stage.
With 9 Top-10 stage finishes including the Prologue stage, it was a great show by the entire Team and the Hero 450 Rally bike.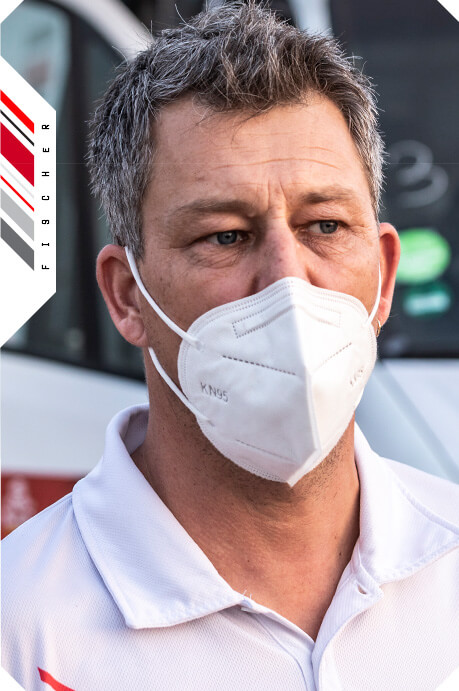 WOLFGANG
FISCHER
"Crossing the finish line of any Dakar is a great feeling but this year is very special for me personally and for the team as well. After what happened last year, we were not sure how we would be able to come back together like this and race again. But we did manage to pull-off this amazing feat thanks to the will power and drive of the team. Then, with the pandemic posing more challenges, it was very important to put up a reliable and competitive bike for the riders. Everyone stepped up and made the most of every small opportunity we got to test and develop the bike. At the Dakar, we had the accident of Santosh, that shook us all over again. Our prayers and wishes go out to him for a speedy recovery and we hope to see him back with us soon.
I can just say that standing at the finish line today with the team, having overcome the challenges on all fronts, we are extremely happy and proud of what we have achieved this year. Our gratitude and thanks go out to the entire Hero family for always supporting us and our fans and followers for cheering for us the entire time."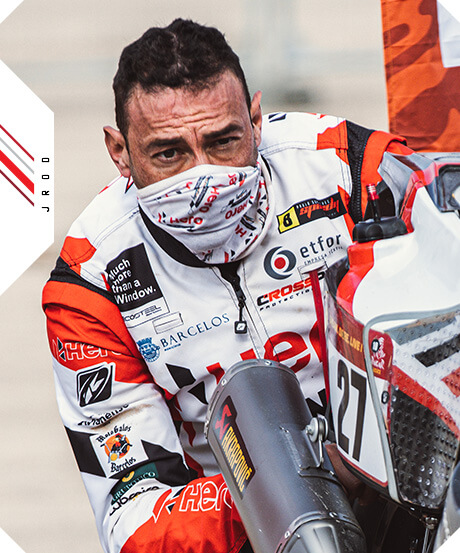 JOAQUIM
RODRIGUES
"I am so happy to have made it to the finish line. The stage had a lot of navigation, so I tried to focus on that and avoid making any more mistakes in this last stage. The last few kms were the longest ever for me and when I saw the finish line, I just felt so relieved. I made it to the finish for Paulo and my family. I want to thank all my teammates, the Hero family and everyone who supported me to come back here and race again."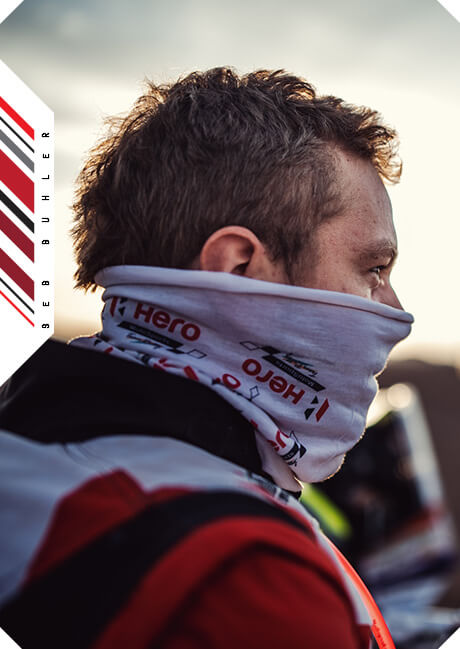 Sebastian
Buhler
"The last stage was quite nice, and the terrain was also in the perfect condition because of the rains so I am very happy to cross the finish line today. This place brings so many bad memories to us, so it was a big relief to finish the last stage. Also, it was the first big test for the bike, and it worked perfectly so it was a great job done by the whole team. I want to thank my team, the Hero family and our supporters for backing us through this difficult Dakar and the entire last year. Hopefully this New Year will turn out to be better for all of us."
PROVISIONAL STANDINGS -
STAGE 12
| POS | NAME | TEAM | TIMING |
| --- | --- | --- | --- |
| 1 | Ricky Brabec | Monster Energy Honda Team | 02h 17m 02s |
| 2 | Kevin Benavides | Monster Energy Honda Team | +02m 17s |
| 3 | Matthias Walkner | RedBull KTM Factory Team | +04m 13s |
| 8 | Joaquim Rodrigues | Hero MotoSports Team Rally | +12m 18s |
| 10 | Sebastian Buhler | Hero MotoSports Team Rally | +13m 06s |
OVERALL STANDINGS -
STAGE 12
| POS | NAME | TEAM | TIMING |
| --- | --- | --- | --- |
| 1 | Kevin Benavides | Monster Energy Honda Team | 47h 18m 14s |
| 2 | Ricky Brabec | Monster Energy Honda Team | +04m 56s |
| 3 | Sam Sunderland | RedBull KTM Factory Team | +15m 57s |
| 11 | Joaquim Rodrigues | Hero MotoSports Team Rally | +03h 04m 24s |
| 14 | Sebastian Buhler | Hero MotoSports Team Rally | +04h 00m 03s |