RALLY DU MAROC
STAGE 5, FES, MOROCCO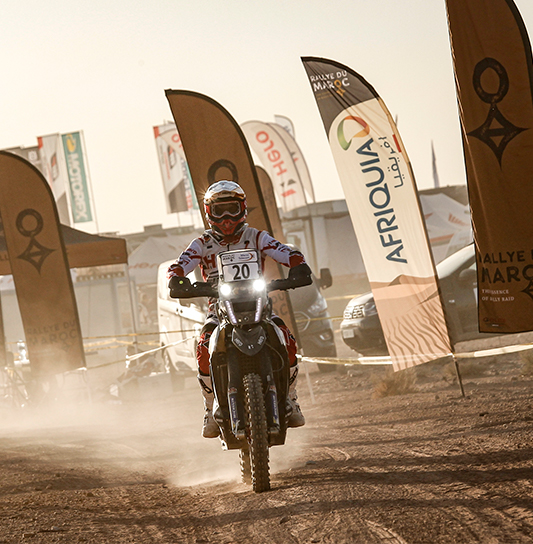 "
NOW, WE START GETTING READY FOR THE DAKAR."
- PAULO GONCALVES

The sheer grit and perseverance showed by all the 3 riders in these long and exhausting stages will also be a big plus to build upon for the upcoming Dakar.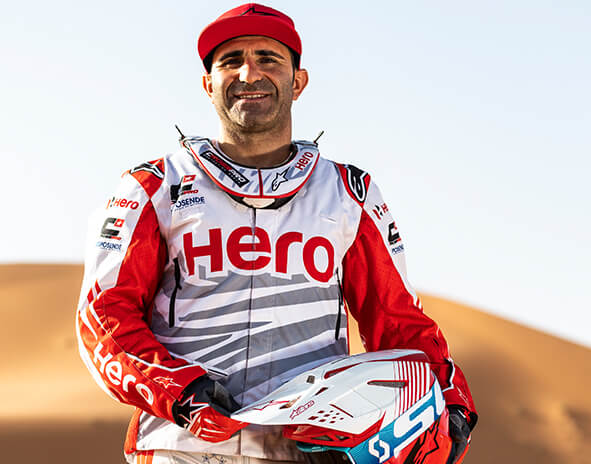 Happy to finish the Rally Du Maroc safely. It was quite a tricky rally for me as I committed a few navigation mistakes in the starting stages, compromising the chances of a top result. But the last 2 days were really good where I got back into my rhythm and could win a stage for my team. Today of course being the last day, I switched off my race mode and focused on bringing it home. It was a really good experience and training overall. Now, we start getting ready for the Dakar.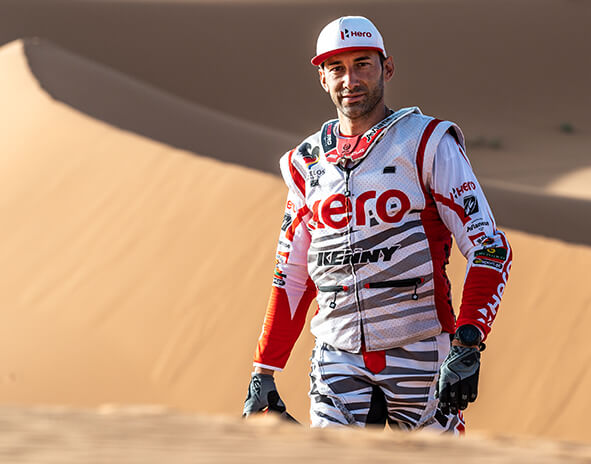 It's a good feeling to have finished the Rally Du Maroc 2019. It has been a tough week for me since the beginning but a solid experience nonetheless. It was our last race before the Dakar so we wanted to get as much feedback for our bikes for the Dakar and we are all happy with how well the bikes have performed. So we take a bit of a rest now and then it's time to focus on the Dakar.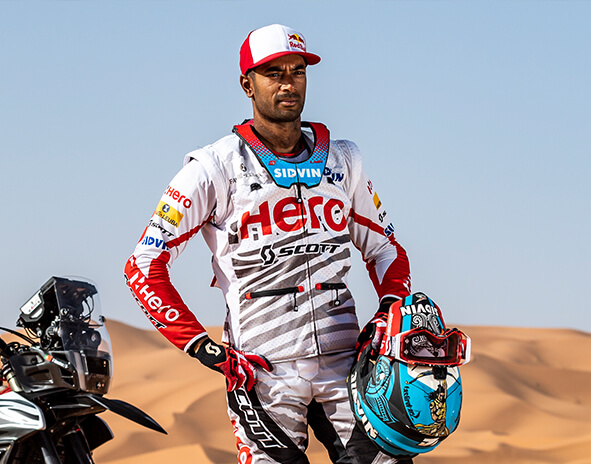 Finally happy to have finished the rally today. It was a really tough rally with long stages and tough navigation and then we had the new roadbook system as well. Totally exhausted at the end of it but today was a good day for me. Made a good stage today, felt comfortable on the bike so I am happy with that. I finished all the rallies that I participated in this year so that's a really good sign for me. I am making good progress heading into the Dakar. We'll see you guys in Saudi Arabia next!

PROVISIONAL STANDINGS - STAGE 5
| POS | NAME | TEAM | TIMING |
| --- | --- | --- | --- |
| 1 | Toby Price | RedBull KTM Factory Racing | 02h 13m 15s |
| 2 | Joan Barreda | Monster Energy Honda Team | +02m 54s |
| 3 | Luciano Benavides | RedBull KTM Factory Racing | +03m 10s |
| 19 | Joaquim Rodrigues | Hero MotoSports Team Rally | +14m 08s |
| 20 | Paulo Goncalves | Hero MotoSports Team Rally | +15m 50s |
| 21 | CS Santosh | Hero MotoSports Team Rally | +29m 38s |
OVERALL STANDINGS - STAGE 5
| POS | NAME | TEAM | TIMING |
| --- | --- | --- | --- |
| 1 | Andrew Short | Rockstar Energy Husqvarna Factory Racing | 18h 03m 54s |
| 2 | Pablo Quintanilla | Rockstar Energy Husqvarna Factory Racing | +01m 21s |
| 3 | Joan Barreda | Monster Energy Honda Team | +02m 44s |
| 13 | Paulo Goncalves | Hero MotoSports Team Rally | +58m 24s |
| 15 | Joaquim Rodrigues | Hero MotoSports Team Rally | +01h 06m 22s |
| 24 | CS Santosh | Hero MotoSports Team Rally | +04h 49m 03s |