RACE SUMMARY
STAGE 4 CONCLUDED A CONSTRUCTIVE CAMPAIGN FOR HERO MOTOSPORTS.
Hero MotoSports Team Rally has concluded its first campaign of the season on a positive note with a solid run in the final stage of the Andalucia Rally.
Gaining valuable race experience, all three riders of the Team utilized the opportunity to acquire some more saddle time ahead of the Dakar 2021.
Sebastian Buhler led the team's charge today with a strong performance and finished the stage in 12th place. Joaquim Rodrigues brought the bike across the finish line in the 20th place while Santosh continued to gain confidence and rhythm to post a commendable 23rd place finish.
At the end of four stages and close to a 1000 kms of racing, Sebastian Buhler finished the Andalucia Rally at 18th, C S Santosh at 20th and Joaquim Rodrigues at 27th positions.
Making a comeback to competitive rally racing after a long hiatus, Hero MotoSports Team Rally set out to gain racing experience from this rally and is highly encouraged by all the positives achieved during the course of this week.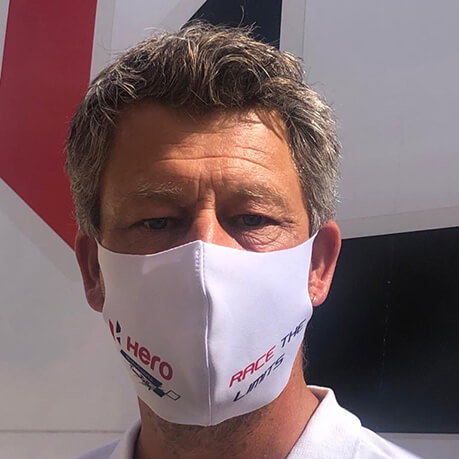 COMING UP
"It was a very difficult comeback for the team after the loss of our friend and rider Paulo at Dakar 2020. We had our doubts as we planned to eventually come back to racing. Now, I am very happy to see the strength and character that everyone has shown to get things going again. Being here together was a great motivation for the team and it was also heartening to see them exhibit Paulo's philosophy of all-for-one and one-for-all by supporting each other. We will put all this positive energy and momentum in getting ourselves ready for the Dakar 2021 in Saudi Arabia."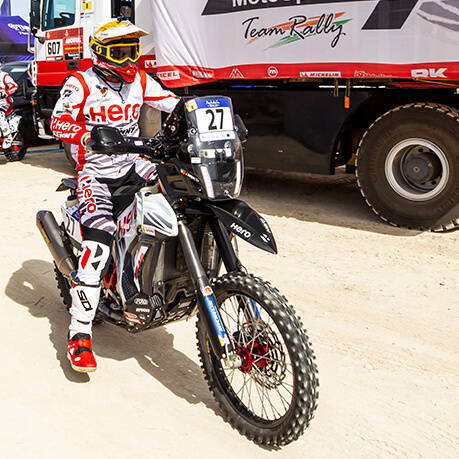 JOAQUIM
RODRIGUES
"Last day wasn't a fun day of riding for me. I started at the end and all the dust from riders ahead of me made visibility very poor. So, I decided to ease up and focused on bringing the bike back to the finish line. It felt good to be racing again after the difficult year we have had. I have been doing a lot of work on bike development with the team and it was good to be able to test everything out here in real-world conditions. I think we will be in good shape for the Dakar next year. I want to thank my team and everyone else for their help and support. I will see you soon at the Dakar."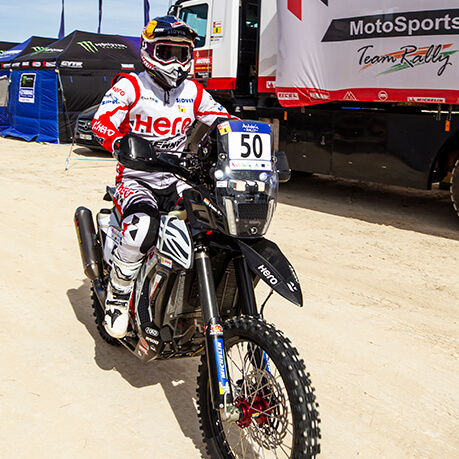 CS
SANTOSH
"We have successfully finished our very first rally after the Dakar 2020. It was a long wait. It was good to be back on the bike but more importantly, it felt good to be back with my teammates. It was nice to start working again towards our goal of Dakar 2021. It has been a difficult year for us as a team and also for everyone else with the COVID-19 pandemic, so I think this is a very positive step to restart the racing activities. I want to thank everyone for backing us with their support. We are very excited to go to Dakar 2021 with a lot of energy."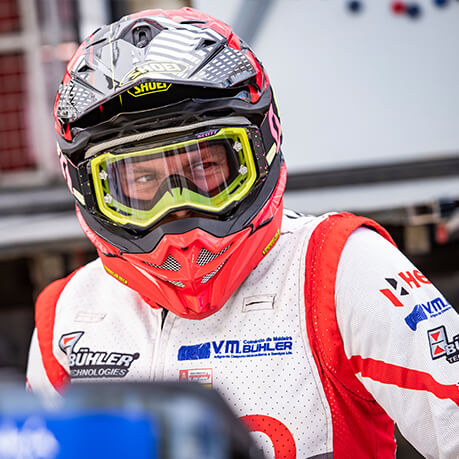 Sebastian
Buhler
"Today was a very dangerous stage because of a lot of dust and no wind, making the visibility very poor for the riders. This rally was good for me and the team as well. We really enjoyed racing again as a team and coming back from a difficult experience at the Dakar earlier this year. I want to thank the team and all our fans for their support."
PROVISIONAL STANDINGS -
STAGE 4
| POS | NAME | TEAM | TIMING |
| --- | --- | --- | --- |
| 01 | Daniel Sanders | RedBull KTM Factory Team | 02h 12m 13s |
| 02 | Toby Price | RedBull KTM Factory Team | +07s |
| 03 | Jamie McCanney | Monster Energy Yamaha Rally | +01m 23s |
| 12 | Sebastian Buhler | Hero MotoSports Team Rally | +05m 55s |
| 20 | Joaquim Rodrigues | Hero MotoSports Team Rally | +11m 41s |
| 23 | CS Santosh | Hero MotoSports Team Rally | +17m 58s |
OVERALL STANDINGS -
STAGE 4
| POS | NAME | TEAM | TIMING |
| --- | --- | --- | --- |
| 01 | Kevin Benavides | Monster Energy Honda Team | 10h 30m 51s |
| 02 | Adrien Van Beveren | Monster Energy Yamaha Rally | +07m 42s |
| 03 | Lorenzo Santolino | Team Sherco Rallye | +07m 54s |
| 18 | Sebastian Buhler | Hero MotoSports Team Rally | +47m 13s |
| 20 | CS Santosh | Hero MotoSports Team Rally | +01h 16m 08s |
| 27 | Joaquim Rodrigues | Hero MotoSports Team Rally | +24h 40m 44s |