RALLY DU MAROC
STAGE 4, ERFOUD, MOROCCO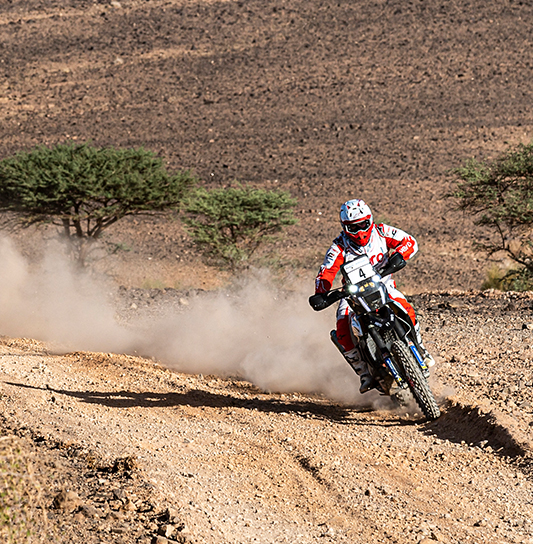 "
I MADE NO NAVIGATION MISTAKES TODAY SO I WAS ABLE TO WIN."
- PAULO GONCALVES

Tomorrow, the competitors will take on the last test of 456 kms that includes the timed special of 168 kms before the last race of the FIM World Championship and the last rally of the season before the Dakar draws its curtains.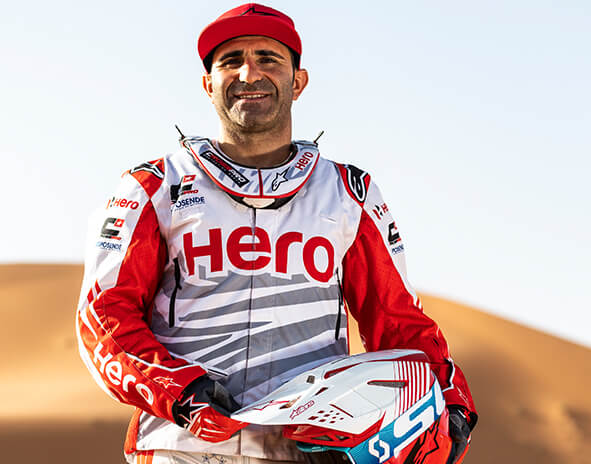 Finally, a good stage at the Rally Du Maroc for me. I made no navigation mistakes today and so I was able to win the stage. I am happy for the team and the entire assistance crew as they have been working really hard before and during this rally to support me, so they deserve today's victory. We have already tested this bike for about 2000 kms in tough and tricky conditions in the sand and stony tracks and till now no mechanical problems so we are really happy with this.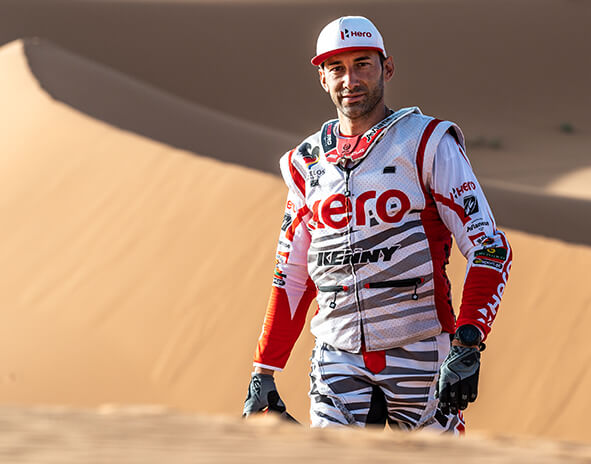 Finally, we had a good day for me and team. Paulo and I made a clean race today with no mistakes so we are happy with the good job we did. I managed to catch the guys in front of me and the bike is working really well so these are good signs for us and the team. Now, we have only 1 stage left for tomorrow and I will try to bring it home safely.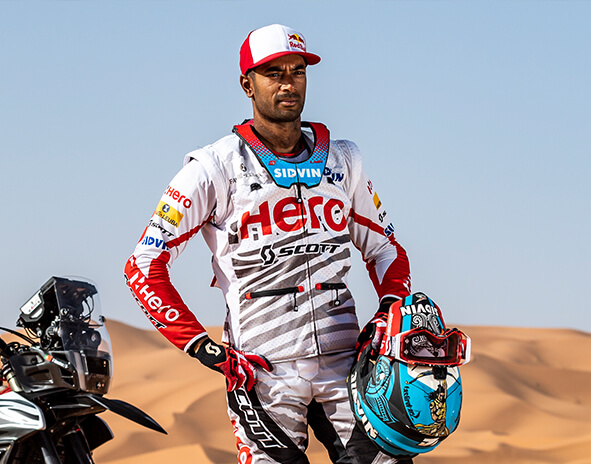 The final big stage of the rally got over today. It was a fast stage today, really physical with a lot of rocks and off-piste. The first part of the stage was really good for me, I felt good and had good energy but the stage took its toll by the time I hit the second half. I lost my way towards the end but managed to get across the finish line. Eventful rally so far of me and the team and I am just happy to make to the end of it.

PROVISIONAL STANDINGS - STAGE 4
| POS | NAME | TEAM | TIMING |
| --- | --- | --- | --- |
| 1 | Paulo Goncalves | Hero MotoSports Team Rally | 03h 37m 11s |
| 2 | Ricky Brabec | Monster Energy Honda Team | +58s |
| 3 | Andrew Short | Rockstar Energy Husqvarna Factory Racing | +01m 30s |
| 11 | Joaquim Rodrigues | Hero MotoSports Team Rally | +09m 15s |
| 27 | CS Santosh | Hero MotoSports Team Rally | +01h 04m 34s |
OVERALL STANDINGS - STAGE 4
| POS | NAME | TEAM | TIMING |
| --- | --- | --- | --- |
| 1 | Andrew Short | Rockstar Energy Husqvarna Factory Racing | 15h 45m 25s |
| 2 | Pablo Quintanilla | Rockstar Energy Husqvarna Factory Racing | +28s |
| 13 | Paulo Goncalves | Hero MotoSports Team Rally | +47m 48s |
| 15 | Joaquim Rodrigues | Hero MotoSports Team Rally | +57m 28s |
| 25 | CS Santosh | Hero MotoSports Team Rally | +04h 24m 30s |